Rally Bulletin
This page is the notice board for new items we come across with a connection to the 1977 London-Sydney Marathon. Look here to check for changes and updates since your previous visit.
Book Review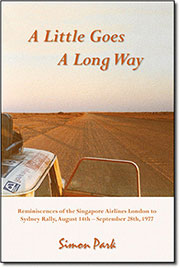 "A Little Goes A Long Way" by Simon Park, is unique in that we can't think of any other book, on any other rallying topic, which is all about the struggle, a really hard, gruelling, demanding, depressing, roller-coaster ride of emotional highs and lows, just to stay with the event in order to come last.
Simon Park? It doesn't matter that you've not come across him although, as a composer, you might know quite a bit of his stuff.... the catchy score for the TV detective series, Van der Valk, was so popular it went into the charts and sold a million copies. The 1977 London-Sydney Rally was the one-and-only rally that Simon ever competed on. He was navigator, co-driver and even nurse when team mate, Mike Dickin, was almost-in-a-coma delirious. This book is the story of how two friends took on the longest car rally in history in one of the least suitable cars.
The 1275cc Mini Clubman had been winkled out of Leyland – the driver having some of the right contacts, but was admittedly a last-resort choice. They had tried to come up with something more long legged, with more suspension movement, and failed. Having decided that as they knew each other very well, they would make an ideal pairing to live together cooped up in a car for a month driving something over 19,000 miles.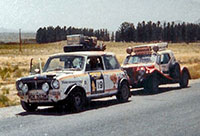 The hunt to put the ingredients together make the first two chapters, headed Genesis and Exodus. After that, you are off, in a crazy event that drives to India with just two short breaks (providing you are on time, and the Mini is not on time anywhere). For example, if you were with the leaders, you might get 10 hours rest at Athens, having wandered about Europe in a tortuous route that takes in Amsterdam, Frankfurt and Paris to Milan, and then you are set off at 1:30 in the morning…. if you are in a Mini, you scrape in on your maximum permitted lateness, say hello, and then say goodbye, to be flagged off again… to drive across Greece using some roads from the Acropolis, then right across Turkey, and then half way across Iran…. remember you have not stopped yet…. to reach the control at Tehran.
If the 96 hours of solid driving of the last of the Liege-Sofia-Liege's was just awesome, getting to the FAR side of India in 12 days and nights was plain nuts.
The most fascinating part is the struggle to get across Iran and Afghanistan, in company with the Magenta kit-car, in a bid to catch up with the event after a string of shock-absorber failures and broken mountings, knowing that if they didn't reach Madras before the boat sailed they would be out of the event.
This then is an account of the longest rally-drive ever undertaken by a Mini. There is a freshness and vitality to Simon's writing because its contemporary - he wrote it all down after the event. It's just that its taken 30 years to get it into print as other things in his life kept getting in the way. We found it a riveting read.
Only one other book has been written about the 1977 event. "The Long Drive" was written by photographer and journalist, John Stathatos, who entered a private team of three Peugeot 504s. John had previously travelled widely and competed on the 1974 London-Sahara-Munich, the Acropolis and other events. The book concentrates on the Peugeot team adventures but also covers the overall story of the entire event. The Long Drive is the definitive book of the 1977 London-Sydney Rally. It was published by Pelham and is long out of print but you might find a copy on that well known auction site, or through bookfinder.com or search out the second hand book fairs.